site index generator, website indexer, how to index a website
To have a successful website you need people finding it. You need search engines finding it, and you need to make sure those search engines can find every page on your site. The best way to do that is with a site index – one page which lists every page on your site.
That's where IndexFinger comes in.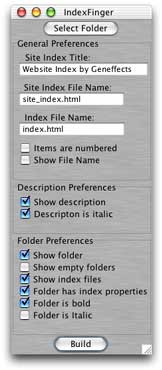 IndexFinger will find every HTML page (including PDFs) on your website, put links to it, and even include descriptions of the page taken from the META data. It is an amazingly complicated (and boring) task, and IndexFinger will do it for you in a second.
For a demonstration, check out the Geneffects Site Index. It was created using IndexFinger. View A full screen shot.
Who will find a site index useful?
Search Engines: When you submit your web pages to search engines, you want to make sure that their web-crawlers will find every page on your site. The only way to guarantee that is to submit one page with links to every page in your site.
Website Patrons: Many users enjoy seeing all of the information a site provides at a glance. Some people bookmark the site index and use it as a jump station.
Web Masters: Using IndexFinger you will probably find things on your web site you had no idea were there. You could see links to web pages you thought you had deleted. You may find pages with titles or meta-descriptions you had accidentally copied from other pages.
| Product | Price | Purchase with ShareIt |
| --- | --- | --- |
| IndexFinger | $14.95 | |