Putting the "evolution" in "revolution".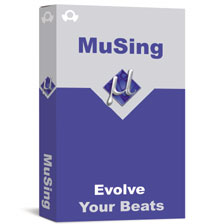 Want to create entirely original rhythm tracks without using prefabricated beats or patterns? You need MuSing.
MuSing enables you to produce striking, purely original rhythms. This software suite uses the concept of evolution to grow families of beats. The MuSing software suite is essential for the experienced musician looking to break the aural mold, yet accessible even to hobbyists just learning to make beats.
It is compatible with any platform: you can run it on your PC, Mac, Linux box, or Solaris workstation! AND beats you create in MuSing are completely compatable with programs like Logic, ProTools, Digital Performer, Peak, Reason, GarageBand and more!
How it works: When you open the MuSing software it creates five beat tracks. This is the starting point for you creation. Select the beat track that you find the most appealing, then hit the "Evolve" button. The other four tracks are immediately replaced by mutations of the beat you preferred. The mutations might change drum patterns, drum sounds, tempo, or one of many sound variables. At this point, you may find that one of the new, mutant beats is what you want. If not, keep hitting the "Evolve" button until you've discovered the perfect beat!
Features include:
Control over beat evolution
Customizable drum suite
Saves and reads all AIFF, AU and WAVE formats
Sync drum tempos with loops you already have
Revolutionary evolution engine
Outputs standard MIDI files

Easy to Use Interface: The MuSing interface is simple, effective, and intuitive. Almost all commands have keyboard shortcuts to facilitate rapid beat manipulation. ToolTip aids and a Help Section are also available to answer your questions. Each time you save a beat, it is organized in folders by session, so you can easily see which beats are related.


Total Drum Customization: You can put any mono, WAVE, AIFF, or AU drum file in the "drums" folder of MuSing to automatically incorporate these drums in the beats you evolve. This allows you to completely customize your experience and bring your percussive personality into the mix. Plus, MuSing comes with over 100 ready-to-use drum samples, so you can hit the ground running!
| Product | Price | Purchase with ShareIt |
| --- | --- | --- |
| MuSing | $24.95 | |